Outdoor Tap Connectors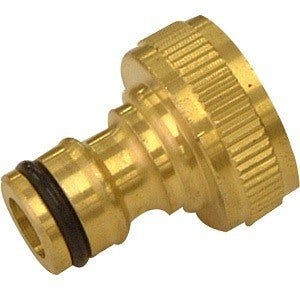 Outdoor tap connectors enable you to connect your hose pipe to your garden tap with ease and efficiency. They feature a threaded connection (measured in British Standard Pipe - BSP - inches) to allow you to connect 1/2", 3/4" and 1" taps to hose pipes quickly and effectively. Our range of connectors include brass and plastic and from a wide range of manufacturers so you can choose the tap connector that best suits your requirements.
Most tap connectors feature a male quick-click adapter that are attached to hose pipes using female quick-click connectors.
2999-20

Ex VAT:

£4.20

Inc VAT:

£5.04

2175 6025

Ex VAT:

£4.85

Inc VAT:

£5.82

1114-28

Ex VAT:

£5.04

Inc VAT:

£6.05