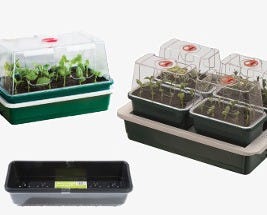 We have a wide range of propagation equipment to aid healthy seed and cutting germination.We stock the market leading brands from Garland, Haxnicks and Bio Green.
To give a head start to the growing season, we stock a variety of propagators, from heated propagators to soil warming cables for Greenhouse growers.
During germination, remember to keep the soil moist at all times. Our range of indoor watering cans with fine roses will delicately water young seedlings.