Water Butts, Accessories & Kits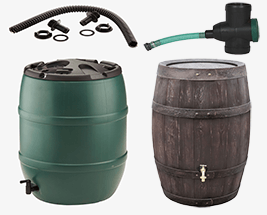 We offer a range of water butts ranging from 100L slimline water butts up to Hydrosure 4000L Rain Tanks. We also have a wide selection of designs to fit your garden's aesthetic or models that put function over form. Ideal for rain collection, irrigation systems or general garden watering. Water butts can be a highly efficient and economical solution to many irrigation problems.
We also sell plenty of useful connectors and accessories to help you create the perfect system, and if you want everything you could need in a water butt system, why not check out our fantastic value kits?