Polytunnel Overhead Irrigation Kits

(3 Products)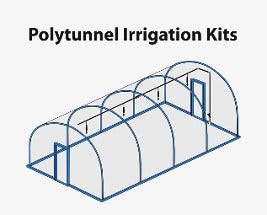 Our range of specially designed Domestic Polytunnel Overhead Irrigation Kits containing everything you need to build your single line polytunnel irrigation system. These kits eliminate the need for watering cans or hose pipes and instead allow you to keep your polytunnel well-watered with minimal effort required. Once installed, watering will be as simple as turning a tap or valve, on or off! No need to keep wasting your time manually watering all of your plants.
Suitable for use with polytunnels from 6-14ft (1.8-4.25m) wide and from 8-70ft (2.4-21.3m) long.