Mixed Fittings Packs

(10 Products)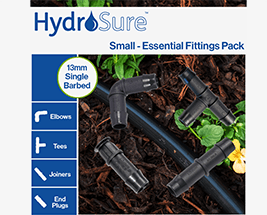 Various fittings packs have been put together to make ordering quicker whilst providing you with all the fittings used in your typical irrigation system.
These fittings packs allow you to create a range of different designs for your own irrigation system. We only pack together the essentials needed to create a system and all fittings are very sturdy and durable. The fittings are all manufactured from UV stabilised materials to prevent deterioration under sunlight.