13/14mm Drip Line

(25 Products)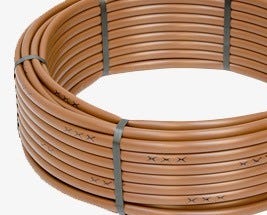 Irrigation Drip Line is a length of pipe with inbuilt drippers positioned evenly along its length. 13/14mm Drip Line is ideal for garden beds, hedges, nature strips and vegetable gardens. Drip Line can be used with pressure compensating drippers to ensure water is delivered more evenly along the entire length if the tube. Make use of connectors to easily integrate Drip Line into your irrigation system also purchasing pegs to hold the Drip Line in place is advised as it can be quite stiff when uncoiled.
When running longer lengths of drip line, consider using our 17mm Drip Line. Larger pipe causes less friction loss, thus creating less pressure loss, making the pipe able to run water more effectively over long distances.
Drip Line is quoted as internal diameter (ID) as the fittings push inside of the Drip Line.