Faulty & Returns
We understand that when you buy your products, you need reassurance that you can change your mind, when you want to, and get your money back. To help offer peace of mind we have a 28-day return policy, allowing you to take your time with no pressure to arrange returns immediately.
Return Eligibility
- You can return items within 28 days from the date of delivery
- We can only refund items that are unopened, unused and in their original condition and packaging
- We can not accept returns of hygiene items such as gloves if they have been opened
- We are unable to accept returns of specially ordered, bespoke or made to measure products
- Please send your items with a Return Form
Sending Your Items Back
To help reduce the cost of returning your items, we've partnered with Collect+ allowing you to send back smaller parcels from as little as £4.49. You can find further information about Collect+ on the above tab.
Alternatively, if you wish to send a larger item back or choose a different courier, we recommend using a service such as Parcel2Go, ParcelHero or Parcel Monkey where you will be able to find a courier service to suit your needs.
NOTE: We are only able to accept returns with a valid Return Form. Parcels received without a Return Form will be processed for recycling.
---
Returns Processing
Refunds on valid returns are processed within 14 days of receiving the items and will be issued to the original payment method (credit card, debit card or PayPal). If you have not received a refund after this time period, please contact the courier who shipped your return to ensure it has been delivered.
If your return has been delivered and you have still not received a refund after 14 days, please obtain a delivery confirmation from the courier and send it to returns@waterirrigation.co.uk where our Customer Service team will be more than happy to advise on the status of your returned items.
Arranging a Return with Collect+
We've partnered with Collect+ to allow our customers to return smaller items for just £4.49, with the added convenience of dropping your parcel off at one of 6000+ stores nationwide that are open late, 7 days a week.
Collect+ will accept parcels for return providing they fit within the below specification: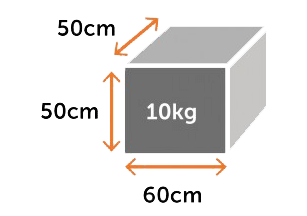 - Up to 10kg in weight
- Max Width: 60cm
- Max Height: 50cm
- Max Depth: 50cm
Faulty and Damaged Items work a little differently...
Please accept our apologies for any inconvenience caused when receiving a faulty or damaged item. We understand how frustrating it can be, and whilst all goods leave our warehouse in perfect condition, faults and damages can occasionally occur during transport through the courier networks.
Should your item arrive damaged or faulty, please send us the following information:
- Your Order Number (which can be found on your order confirmation email)
- Name or product code of the faulty or damaged item
- Photos that clearly show the fault or damage as clearly as possible
Don't worry about sending your faulty item back to us, just keep hold of it until you've been in touch.
Please send all of the above to returns@waterirrigation.co.uk and we'll get back to you as soon as possible.
We are not able to refund return costs when arranged outside of this process.
We will be able to assist with faulty or damaged parcels if they are reported within 7 days of delivery, or within the warranty period should a product develop a fault.