Greenhouse Sprinklers

(11 Products)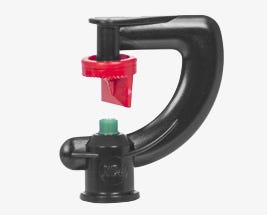 Build your own greenhouse sprinkler system with our range of Greenhouse Sprinklers. Ideal for watering and controlling conditions within greenhouses, orchards, vegetable plots and livestock houses.
They can be installed either suspended from overhead pipework or secured in the ground on spikes for close-range watering. We have a selection of sprinkler patterns with various flow rates to suit all needs.
We also have compatible Leakage Prevention Devices (LPDs), which keep the system pressurised at the end of a watering cycle, providing a quick cycle start and preventing dripping and water wastage.