Medium-Density Polyethylene

(MDPE) Pipe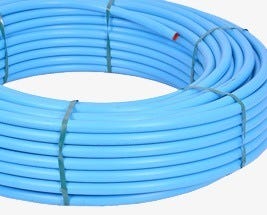 PE80 SC Medium Density Polyethylene (MDPE) pipe - For the use for cold potable (Drinking) water in buried pipeline applications.
This SC80 pipe is made up of a solid wall single layer polyethylene pipe that is manufactured from a black PE80 inner and a blue PE80 outer, this is used to identify the pipe's usage.
Unlike LDPE pipe, MDPE pipe is measured in outer diameter (OD) as it requires compression fittings that fit onto the outside of the pipe.