Micro Irrigation Drippers

(35 Products)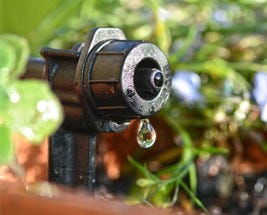 Micro Irrigation Drippers distribute water over a small diameter and allow you to deliver water directly to the plant roots. Pressure compensated drippers maintain the flow rate over the system providing even watering. Adjustable drippers have variable flow rates, so you can change the amount of water delivered through each dripper to different plants or pots. Barbed drippers insert directly into the lateral supply pipe, or at the end of 4mm micro pipe coming off the supply pipe.
Alternatively they come on in line or end of line spikes which can be inserted at the base of the plants. In-line drippers are connected with 4mm micro pipe, in a daisy chain effect. End of line drippers will be connected at the end of 4mm micro pipe. Separate stakes and extension pieces are not usually required for drippers.