16/17mm Nut Lock Connectors

(21 Products)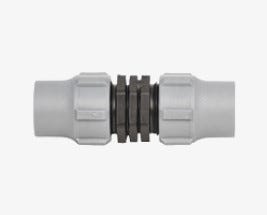 Our range of 16/17mm Nut Lock Connectors ensure an extra water tight seal to 16/17mm internal diameter (ID) irrigation pipe, providing a more comprehensive and safer connection than that of a barbed fitting. A benefit of a more secure seal is that these connectors can withstand a higher water pressure without the risk of becoming loose.
To fit a Nut Lock Connector: unscrew the nut and place it over the pipe, fully insert the pipe onto the barbed connection point then re-tighten the nut onto the fitting.
save £0.69 (52%)

save £0.58 (52%)

save £0.76 (53%)

save £0.63 (53%)

save £0.85 (52%)

save £0.71 (53%)