Expandable Hose Pipes

(5 Products)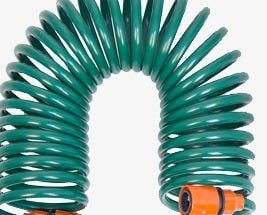 If you're looking for a hose pipe which doesn't kink or tangle then light and compact expandable hose pipes are perfect for you.
Our expandable hose range can expand to up to 3x it's original length whilst ensuring a continuous water flow. Thanks to its lightweight construction, manoeuvring and watering around the garden is easy.
Coil Hoses are light and easy to carry around, and its coil design and high flexibility allows it to stretch and retract back to its original size with ease. Coil hoses are ideal for small gardens or balconies, and can be easily stored without taking up room.