HydroSure Galvanised Connectors

(89 Products)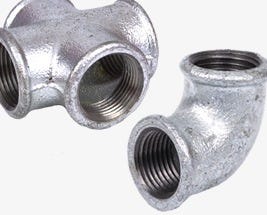 Our extensive range of galvanised malleable iron connectors are suitable for the flow of water, steam, gas or other non aggressive media.
These fittings all feature threaded connections, measured using the British Standard Pipe guides to ensure compatibility across the full range. They are durable and the zinc coating provides corrosion resistance.
save £0.05 (15%)

save £0.04 (14%)

save £0.05 (14%)

save £0.04 (13%)

save £0.05 (12%)

save £0.04 (11%)

save £0.06 (14%)

save £0.05 (14%)

save £0.18 (39%)

save £0.15 (39%)

save £0.37 (69%)

save £0.31 (69%)

save £0.07 (13%)

save £0.06 (13%)

save £0.07 (13%)

save £0.06 (13%)

save £0.25 (42%)

save £0.21 (43%)

save £0.08 (13%)

save £0.07 (13%)

save £0.08 (12%)

save £0.07 (12%)

save £0.10 (13%)

save £0.08 (13%)